Content Marketing

Definition

What is the definition of content marketing and what can a content marketing agency do for your company? Find out here.
---
Inhalt:
---
Content marketing is authentic content-based marketing communication that pursues measurable conversion targets.
Content marketing is suitable for both B2B and B2C marketing. The channels and platforms are selected according to an individually developed strategy.
How content marketing is defined: It depends on the agency
Put a dozen content marketing agencies in a room and ask them to define content marketing – and you'll get three dozen different answers.
The reason for this confusion is mainly due to the fact that there are some accepted definitions of content marketing, for example from the Content Marketing Forum – but many individual definitions of various content marketing agencies and experts are circulating.
The reason for the variety of definitions: In the meantime, a multitude of agencies with different backgrounds call themselves content marketing agencies – and the respective content-based service is then very individually defined as content marketing.
Our Definition of Content Marketing
So if you ask us about the definition of content marketing, we will always tell you OUR definition – which we are firmly convinced of:
Content marketing is content-based marketing communication with clearly defined, measurable goals.
A very early definition of content marketing, which we followed for a long time due to our journalistic background, was: "Content marketing turns brands into media". But several years and many projects have taught us that this definition only describes a part of today's content marketing and is definitely too short.
The reason: Of course content marketing can turn brands into (corporate) media in the purest sense of the word. But this – by all means fascinating solution – requires high investments, a permanently staffed editorial office (newsroom), staying power and the willingness of the client to forego complex (expensive) coordination processes.
Therefore, depending on the vision, goal, target group and budget, it may be advisable to define content marketing in a slightly different way – for example, as a campaign. Which definition of content marketing is the right one for your company and which content marketing measures you want to implement, you should find out together with your content marketing agency.
Digital content marketing always pursues measurable conversion targets
This is the most important factor that, by the way, clearly distinguishes digital content marketing from classic journalism: Content marketing always pursues clear marketing goals, which are ideally linked to measurable conversion and clear KPIs.
Some possible KPIs for digital content marketing are for example
Reach: Measurable for example through traffic/click numbers or views
Engagement: length of stay and interactions
Social Signals: Shares, comments and reactions
Search engine visibility: e.g. Sistrix visibility index, Google Search Console
Leads: Data entry, contacting
Brand loyalty: Recurring users, newsletter subscriptions
Sales: Online orders
A relatively soft conversion is awareness, i.e. attention for one's own brand. Leads and sales are much harder conversions, but also all the more difficult to achieve.
The high art of content marketing consists of harmonizing brand interests (e.g. sales, leads, market share…) with customer interests (e.g. information, utility, entertainment…). Every communication must therefore be thought of from the customer's perspective: Which of our messages really interests them?
What the technical term Customer Centricity means, we simply call magic. In our definition of content marketing, magic occurs when we as a company, brand and institution manage to get (potential) customers to deal with our content voluntarily and perhaps even enthusiastically – and this then pays off in terms of our strategic content marketing goals.
Therefore, here is our favourite picture that aptly describes this typical challenge in content marketing: On the right you see what the brand considers to be important messages. On the left you see what really interests the customer.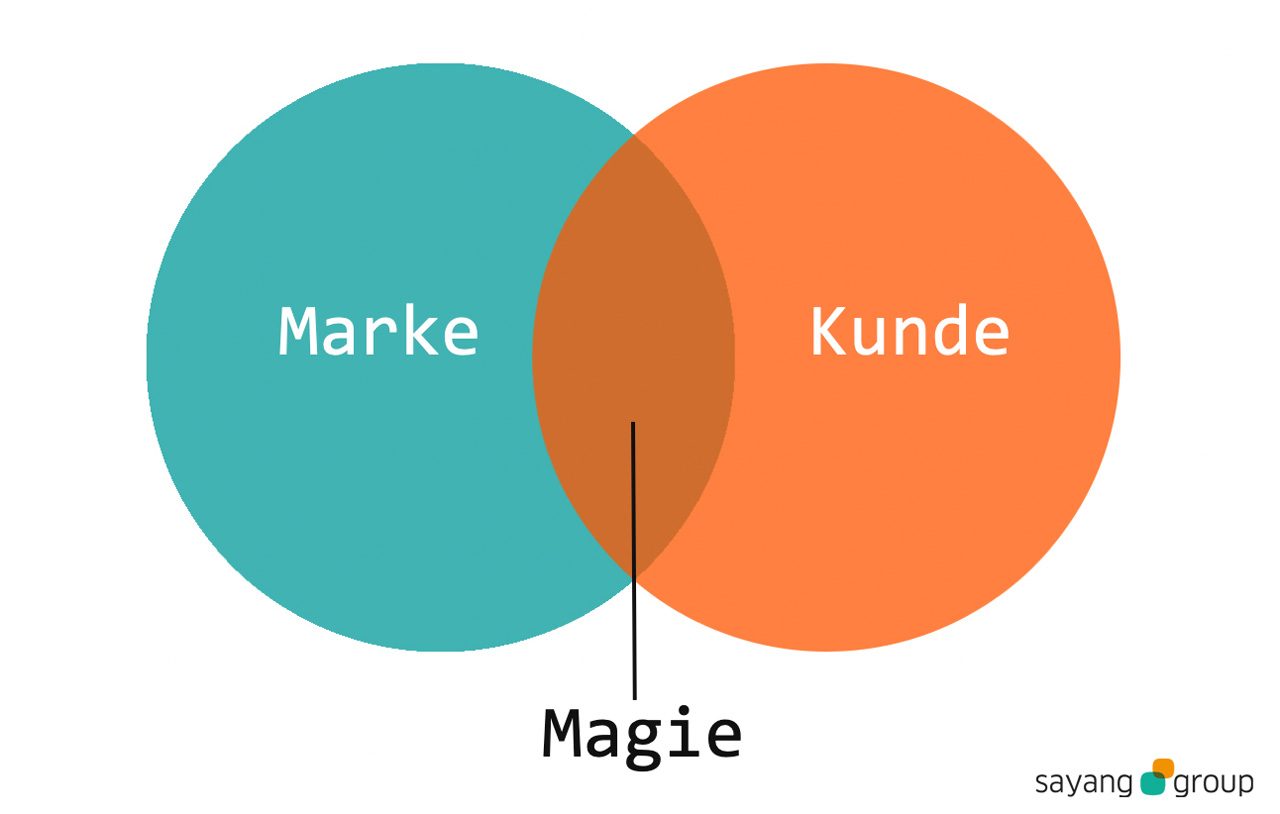 Only when you hit the intersection, content marketing becomes truly magical and brings lasting, measurable success. This is the question one should therefore ask oneself for every content, no matter how important it is from a company's point of view: Is our target group really interested? A question that, by the way, can often not only be answered from the gut (which seldom provides an exact analysis), but today can be backed up with many, many data.
And then you should always ask the question: Does the contact convert to our goals?
Content marketing should always be honest
What we generally warn against is using content marketing as a Trojan horse. In other words, not telling the user of the media that he is currently dealing with a company's content. Rightly one must expose oneself to the accusation of surreptitious advertising. It remains to be seen how the brand is to be strengthened if it does not appear at all or only bashfully.
Is content marketing the right thing for my company?
Especially customers from the B2B segment ask us again and again whether content marketing is also something for your company. After a good decade in the content marketing business, we can say with full conviction: Yes, by definition, content marketing is something for every company – and guaranteed for yours.
However, since we do not yet know your company and your marketing goals, we cannot say at this time which form of content marketing might be the right one for your goals and target groups.
But what you should know about content marketing: Content Marketing is perfectly suited for B2C as well as B2B marketing and communication. Especially in the B2B sector, content marketing can unleash enormous forces.
This is mainly because the definition of content marketing is so diverse.
Examples of channels and platforms
The examples of content marketing are widely spread. One can subsume many things under content marketing. For example:
The newsroom of a company that provides 24/7 coverage of the website and other channels
A search engine optimized user value platform that solves the everyday problems of your customers
The Facebook or Instagram channel
The Establishment of Corporate Influencers
The Social CEO who blogs on LinkedIn
The Corporate Blog
A content based campaign website
A regular newsletter
Communication with customers via Messenger
A YouTube channel
An App
Only a strategy process can tell you exactly what is right for you.
Content Marketing needs a strategy
Given the many definitions and possibilities of content marketing, the decisive question is definitely not whether content marketing is something for your company, but only which content marketing strategy is the right one.
As part of a strategy development process, we define which types of content and which platforms have the best chances of reaching your target group and contributing to your communication and marketing goals.
If you start creating content without a strategy, you might as well throw your marketing budget out the window. And, by the way, also those who think that a strategy is set in stone forever.
Since we work digitally, such a strategy should always be variable and be developed agilely on the basis of data. Ideally, you start as quickly as possible with a so-called MVP (Minimum Viable Product) and can thus quickly collect important data to become better and better. Learn and adapt.
This is so important because a content marketing strategy, however sound it may be, is first and foremost based on assumptions and conclusions. What is really important is the practical test – and the continuous development and constant questioning of your own content marketing strategy.
Content marketing is not journalism – and not classic advertising
Let's come to another frequently asked question: Is content marketing journalism? This is particularly relevant as many of our highly esteemed colleagues who do content marketing like to call themselves corporate journalists. Not so we do. As trained journalists and journalism lecturers, we have far too much respect for what the profession of journalism stands for to call ourselves corporate journalists. We are content marketers – and we do it with heart and soul.
Because content marketing is not journalism. But it uses journalistic tools in many areas. Therefore it is an enormous advantage for a content marketeer to have been a journalist in his former professional life. But to call content marketing journalism is like saying fish to a dolphin. They share the same habitat, look very similar, but are completely different species.
But content marketing is also not advertising. At least not a classic one. Classic advertising is the short form as it is experienced in the digital world, for example with banner ads. Many often cited examples, such as Jean-Claude Van Damme's "Epic Split" for Volvo, use the (journalistic) style of storytelling, but are nothing more than modern forms of advertising. Our definition of content marketing is different.
Digital content marketing is highly complex
Which overwhelm many classic journalists: Digital content marketing is by definition highly complex and requires a whole toolbox of instruments that often have nothing to do with journalism.
The services of a digital content marketing agency are therefore very diverse and combine both digital marketing and digital content. To develop a strategy for a digital content marketing project, for example, you need a profound knowledge of digital communication channels and customer journeys in the digital world.
We generally recommend our customers to build up internal content marketing know-how in order to keep an overview in all complexity. We ourselves regularly educate ourselves further, mainly through experiments, further development of our customer projects and our own publishing websites.
For implementation, it is not enough to create good content. First you have to know on which platform and for which target group you are producing it – and in case of doubt, you have to build that platform first.
Then the big topic of the distribution of content marketing content.
In order to build up organic, i.e. unpaid reach, all target group-relevant platforms should be used for specific channels. In addition to mastering all journalistic forms of presentation in text, audio, video and images, the skills required here include
Social Media Management
Community Management
Search Engine Optimisation (SEO)
Newsletter editing
Messenger Marketing
Of course, this also includes the whole range of paid distribution channels. For example
Search Engine Advertising (mainly Google Ads)
Social Advertising (z.B. Facebook, Instagram, LinkedIn & Co.)
Native Advertising
Native Recommendation Ads (e.Bg Taboola, Outbrain, Plista)
All combined with a deep understanding of data and the evaluation of all tracking and analytics data.
Is Content Marketing Storytelling?
Finally, we try to dispel a myth. This is: Content Marketing is Storytelling. That is unfortunately not quite true. What is important is that many content marketing projects are storytelling projects. But not all of them. Storytelling is a journalistic method of writing story like articles.
With storytelling you can tell very nice stories about and around a brand. "Storytelling is the telling of stories. This is how information is conveyed – and emotions. Good stories inspire, captivate and carry you away. They breathe life into cold, naked numbers," describes ex-Burda manager Thomas Pyczak in his blog Strategic Storytelling.
Storytelling is therefore not without reason so popular in the content marketing world. But storytelling is by far not the only method that content marketing uses. A pure utility text can also be content marketing, a fact-based blog post or an interview. In many projects we recommend a mix of different methods, formats and styles. Storytelling is often one of them. But which types of content are best for your company can only be defined in a strategy process.
Concrete examples: Content Marketing can look like this
Content marketing has many faces, often depending on whether it is managed from the marketing or the communication department.
We give you some content marketing examples from our recent past. Interesting here: Not all of our customers would define what has been created here as content marketing – rather as a modern, digital form of communication.
Content Marketing example: ISPO.com
Whoever is involved in the sports industry knows ISPO. Launched 50 years ago as a sporting goods trade fair by Messe München GmbH, ISPO is now much more than just a trade fair. Even if the three trade fairs ISPO Munich, ISPO Beijing and ISPO Shanghai certainly contribute a large part to branding and also to turnover.
Today ISPO is a platform for sports – and ISPO.com is a high-reach industry medium and B2B2C content marketing portal. The basic idea: Just as a trade fair is a platform for exchange in the offline world, ISPO.com is also in the digital world – with B2B insights as well as content for a B2C target group that is not even admitted to the physical trade fair. And also with numerous digital services beyond the classical trade fair business.
It was launched in December 2015 by the then agency of Karsten Lohmeyer. Karsten Lohmeyer was responsible for the editorial strategy and editorial support of the portal until early 2018.
We consider it a special sign of confidence of the customer that we are allowed to support ISPO.com again in the areas of strategy, editorial work and native advertising after a break of one and a half years since 2020.
Of course we can't reveal too many internals about the success of the portal, but here's a little tip: With the help of the tool Sistrix you can easily see the effect that the regular production of high-quality content on a high-performance platform has on the visibility in the search engines.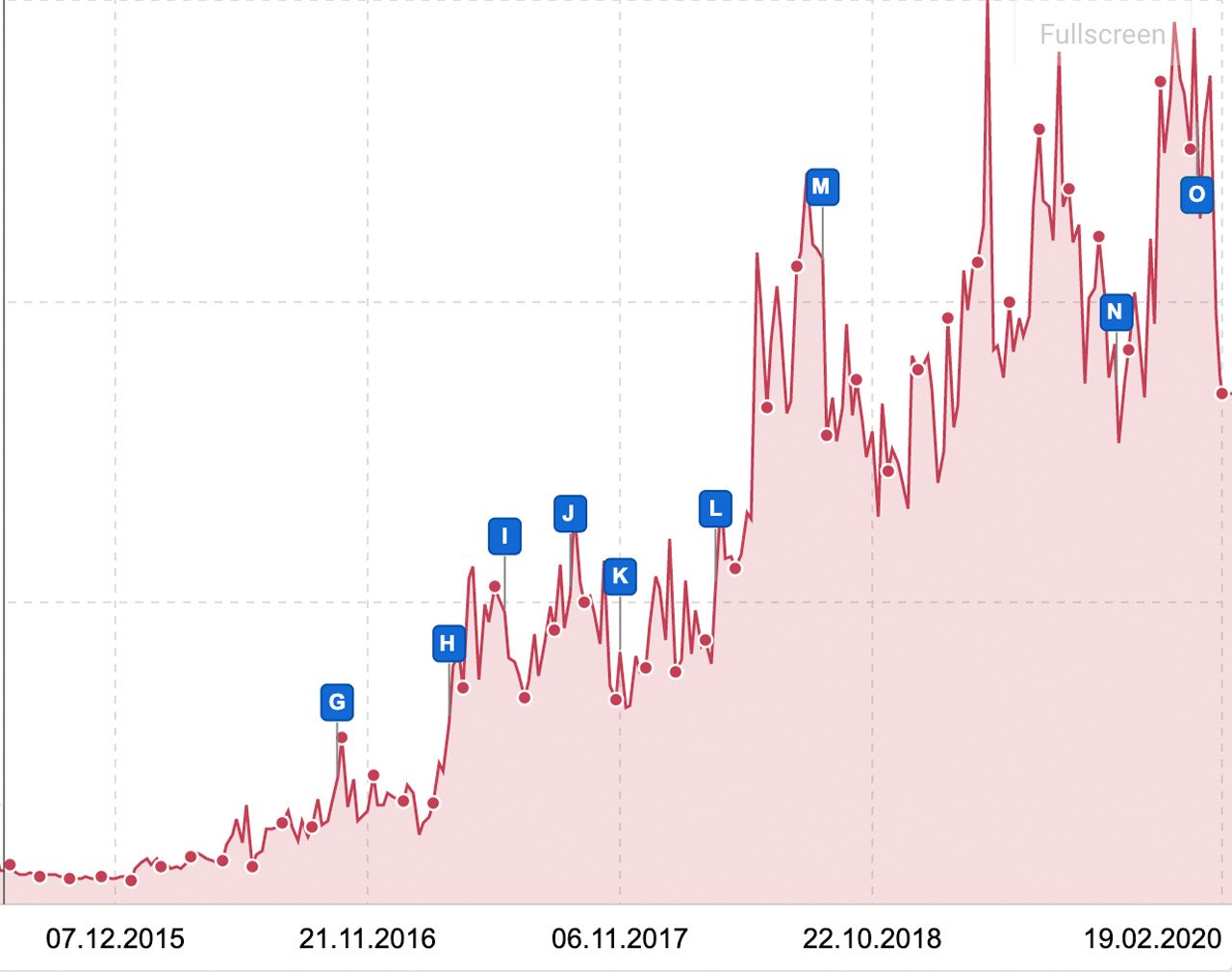 This website is in constant development. That means: Step by step we will name and show more examples. So come back soon to see more content marketing examples.
You have questions? Then simply contact us.